Transform your entity to a unique custom keychain!
Logo, mascot, product … Take it everywhere with the manufacture of custom keychains made of soft and durable injected PVC.
PVC keychains are a low-cost promotional item for all your entertainment and events.
Ma-mascotte offers you different types of PVC custom keychains, fully customizable according to your colors and shapes: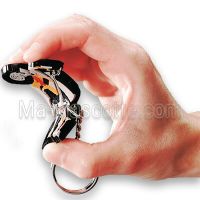 Understand the difference between custom keychain types
The edge and the back of the recto keychains are monochrome (most often black or white), the back can be personalized by pad printing (slogan, email address or logo).
For 2D, 3D and duplex PVC keychains we provide you with a graphical simulation of your keychain before mass production (manufacturing steps below)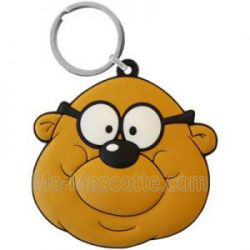 Operation and creation steps:
Réalisation d'une maquette graphique

de votre porte-clé que vous validez. (3-5 jours).
Réalisation du premier porte-clé

que vous validez sur photo. (Délais : 7 jours).
Production de vos porte-clés

en série (délais en fonction de la quantité de 4 à 8 semaines) et livraison directement de votre marchandise chez vous ou chez votre client.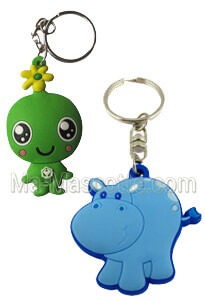 Characteristics of custom PVC key rings 2D and 3D:
Soft injected PVC.
Customization: colors and design.
Size from 30mm to 80mm.
Thickness: from 4mm 2D to 6mm 3D.
Individual packaging included.
Chain / bail included.
Verso marking possible.
Minimum order: 300 pieces.
Deadlines: about 3 to 4 weeks.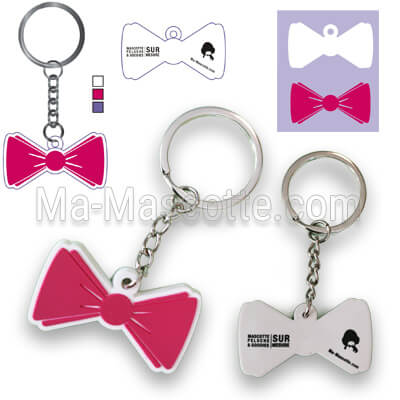 Customized PVC Keychain Prices
0.40€ to 1.60€
Indicative price for a keychain up to 4 different colors.
For additional colors and for the back marking there is an additional cost.
No technical costs – No tooling costs
Participation fee of mold <300 pcs – 30 € ht
Discount of 30 € for a restocking> 500 pcs
| | 300 pieces | 500 pieces | 1000 pieces | 2000 pieces | 3000 pieces |
| --- | --- | --- | --- | --- | --- |
| Priting One color Verso | 0.08€ ht | 0.08€ ht | 0.05€ ht | 0.05€ ht | 0.05€ ht |
* For larger quantities, other sizes or options, contact us. For more options, contact us. ** Estimated HT price to be confirmed with the project.
Keywords :Full 3d, 3d figurine, PVC figurine, figurine making, figurine maker, custom figurine.