Custom Made Anti-Stress Foam Figurine Manufacturing
Foam figurines (known as stress balls) are molded foam objects made on design and stained, painted or customized by decals.
Foam figurines used to relieve stress and muscle hand. The anti-stress foam figurines are a great promotional gift for your partners and colleagues.
The minimum order is 1,000 pieces for customized forms. This amount serves to damp the price of the mold required for the manufacture and obtain a good price.
You can customize foam figurines based on existing models (eg stress ball, cube, heart-shaped, etc.). In this case, the personalization of the figure will be about colors and logos.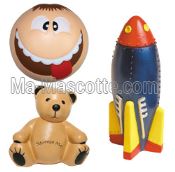 Process and creation steps:
Upon receipt of your request, we will prepare a quotation for the manufacture of the prototype (price: 300 €).
This price includes the graphic creation, prototyping and delivery of it to your address The price of the prototype is deducted from the final invoice for any minimum 1000 pieces order.
Custom made figurine creation:
Prototyping making of your figurine. You validate the stages of the making through pictures. (7 – 15 days).
Receipt of your figurine prototypeat your address for final validation. (Time: 7 days).
Figurines mass production (time depending on the quantity 4 to 8 weeks) and delivery of the goods to you or your customer's address. The cost of the prototype is deducted from the final bill.
Custom made foam figurines price
0.75€ to 3.00€
Custom-made figurine: Price on quotation only (about 3€.1000pcs).
Customized figurine: Approximately € 0.75 ht.1000pcs (stress balls with logo printing).
* For larger quantities or other sizes, contact us.
Note: Depending on the details and complexity of custom figurine to achieve, figurines of sizes too small will not be achievable.
Discover more custom-made foam figurines pictures:
[Total :

54

Moyenne :

4.4

/5]