Do you like our custom made mascots made in fabrics or inflatable? You will love our resin mascots!
Get ready for realism with mascots-resins. My Mascot offers you the possibility to make your custom resin mascot costume to bring you a a higher level of detail and a more realistic rendering!
A resin mascot? Kesako?
This is a mascot whose (at least a part, most often the head) is made of hard materials (unlike the classic mascots) to obtain more pronounced forms and a detailed paint finish.
This is an original creation made by an artist who will shape a hard structure using different materials (resin, fiberglass, etc.).
Subsequently, for outdoor rendering, this structure will be painted, varnished and embellished (depending on the design of the mascot) with other more traditional materials such as foam and fabric.
The result will be a tailor-made and original mascot disguise; closer to reality and surprising with more pronounced details (examples: gradations of colors, shadows and reliefs).
To make a resin mascot, we make a sculpture that will serve as a support and mold to produce a unique piece.
Custom Mascot Resin Prices
Start from 700€ ht
Choice of design, colors, materials
Free graphic design (if possible)
Logos in embroidery or silkscreen
Decreasing price according to the quantity
Lead time: 4-8 weeks
When to choose a resin mascot?
In general, our customers most often opt for a mascot called 'classic' (foam and fabric) because it allows a good mobility for the user, offers a  "hug"  look with its plush surface coating and offer place for a nice design.
The inflatable mascot is often chosen for its extraordinary volume in use and its ease of storage or its ability not to keep warm (hot countries).
And a resin mascot then? 
We do choose a resin mascot when we wants to obtain more realism and a texture (example: the reliefs of the face or a smooth aspect for an helmet or a shield).
Also, it allows to shape shapes and reliefs that are not possible to design with regular fabrics and foam mainly due to manufacturing reasons and technical constraints.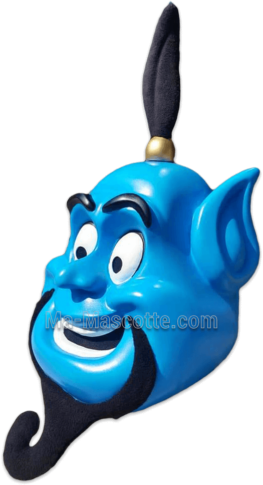 In summary :
Advantages: More realistic, gradient colors, reliefs, appearance.
Disadvantages : mascot not deformable and brittle (not possible to compress because it made of hard materials (not flexible)). Higher price. Limited modifications during manufacture.
The result is brilliant !!
Concretely what does it looks like ?!
Here below is an example of a mascot head of Tony Montana (Caricature of Scarface) made with resin.
For all your custom made mascot projects, do not hesitate to contact us.
We can also assist you in other custom-made projects such as the realization of scene decors, accessories, showcase, or custom-made resin POS.
[Total :

30

Moyenne :

4.3

/5]