Your mascot represents the image of your company, your brand, your product. Your mascot is an investment and a resource that is directly linked to the public. When your mascot look dirty or even is damaged, the public perceives a negative image of your business.
At Ma Mascotte we know how the image of your mascot is important for you. Our advice and services will allow you to maintain sustainably your mascot. Give a new life to your mascot!
Cleaning and Maintenance Mascot
An annual deep cleaning of your mascot will help to keep your costume longer.
Each type of mascot requires appropriate cleaning.
The different parts of the mascot are cleaned and maintained differently.
Equipment :
Vacuum (which can suck water preferred).
Spray cold water (for rinsing).
Spray hot water and detergent (to clean).
Spray water + alcohol (50/50) (for disinfecting).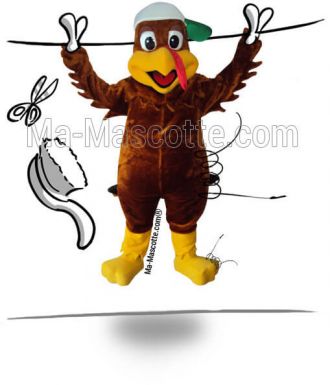 Tips :
Attention to chemical cleaning products that you can use; these can damage your mascot.
It is best to wash the parts of the mascot separately to avoid discoloration (the colors may bleed).
NEVER dry parts of the mascot to the dryer.
Let dry your mascot costume outdoors between uses.
Use the right products for easy maintenance (see below).
The dry cleaning laundry is not recommended since the chemicals used can damage the suit.
To ease the maintenance and cleaning of your mascot costume we recommend using a waterproofing product, stain-resistant, water repellent and breathable (made from fluorine resin) found in all drugstores or online.
Here is a selection list of waterproofing  & stain resistant brand product for your mascot:
Also, here is a list of websites selling a fire retardant M1 for mascot and textiles product that can be useful depending on your usage (fair, stalls, exhibitions …).
Antifeu-Ignifuge.fr
Antifeudiscount.com
Mascot repair
An accident can happen quickly, Ma Mascotte can certainly repair your mascot.
Steps :
Send photos of your mascot costume to repair. We analyze your request and will confirm that we can handle your request. You send to us your mascot.
Inspecting your mascot at his arrival and you will be informed of reparation required to give a new life to your mascot.
We can not make the reparation without first having informed you of the estimated price and the elements that will be replaced and repaired.
Your mascot is sent by carrier directly to your address.
Repair kit :
Furthermore, we recommend you make a repair kit that will be useful if you need to repair your mascot quickly during an event.
Content :
Curved needles (easier to repair the hard places to reach).
Fabrics and material with the same colors of your mascot.
Pins nurses (ideal for temporary fixing and accidents).
Cement contact glue (neoprene based) (to glue shoes and other parties).
Hot glue gun (for temporary fixing).
[Total :

34

Moyenne :

5

/5]